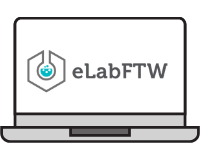 Summary from Vendor: eLabFTW is a free and open source electronic lab notebook designed by researchers, for researchers, with usability in mind. With eLabFTW you get a secure, modern and compliant system to track your experiments efficiently but also manage your lab with a powerful and flexible database.
Compare eLabFTW to other options in the Electronic Lab Notebook Matrix.

Please contact us if you have any questions or suggestions about the content of this page. Last updated: 2018-08-07
 Please Note: This information has been verified by a vendor representative.
Features & Specifications