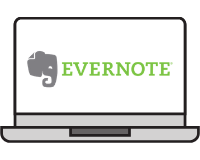 Summary from Vendor: Evernote is a great tool for research. Whether you're investigating legendary treasures hidden by ancient civilizations, writing a novel, or working towards a PhD, Evernote is an invaluable tool for gathering information and keeping it all organized.
Compare Evernote to other options in the Electronic Lab Notebook Matrix.

Please contact us if you have any questions or suggestions about the content of this page. Last updated: 2018-02-01
 Please Note: The vendor did not respond to our invitation to provide information on this ELN tool, therefore specifications may be limited.
Features & Specifications