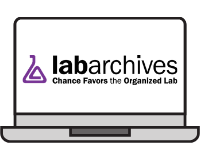 Summary from Vendor LabArchives is a secure and intuitive cloud-based electronic lab notebook application enabling researchers to easily create, store, share and manage their research data. Far more than an "ELN", LabArchives provides a flexible, extensible platform that can be easily customized to match your lab's workflow providing benefits to Principal Investigators, lab managers & staff, postdoctoral fellows and graduate students.
Compare LabArchives to other options in the Electronic Lab Notebook Matrix.
Please contact us if you have any questions or suggestions about the content of this page. Last updated: 2018-02-15
 Please Note: This information has been verified by a vendor representative.
Features & Specifications