Harvard Library Celebrates Love Data Week 2022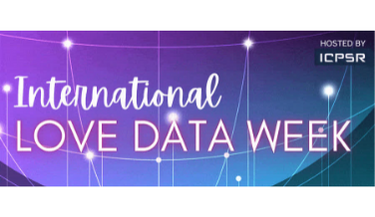 Data is for everyone! Wait ... data are for everyone? Either way, Love Data Week 2022 is about how different folks use data. If you haven't participated before, International Love Data Week is the celebration of data. Love Data Week is dedicated to spreading awareness of the importance of research data management, sharing, preservation, and reuse. Research data are the foundation of the scholarly record and crucial for advancing our knowledge of the world around us.
Join us for a week of events focused on the people side of data: What does data look like in different disciplines? How about biases in data?
---
Complete information about Harvard Library Love Data Week events can be found on the Harvard Library Research Data Management Program website.
Loving your data in RSpace
Monday, February 14, 2022, at 12:00pm
RSpace is an electronic lab notebook that is also a multi-faceted research tool, which you can access easily and securely through a web browser. Show your data love by keeping it organized, documented, and searchable in RSpace, and streamline your workflows all in one place! This session will feature a demo of the RSpace platform, including: integrations with DMPTool, protocols.io, and Harvard Dataverse; data analysis using Jupyter notebook and the RSpace API; and the new RSpace Inventory Hub.
From catalogs to CURIOSity
Tuesday, February 15, 2022, at 12:00pm
Ever wondered what LibraryCloud is and how it is used? Come learn how Harvard Library uses LibraryCloud to support digital collections work. LibraryCloud is a metadata hub that provides open access to metadata from our source catalogs and digital repository. We'll explain how we used and enhanced LibraryCloud to create CURIOSity and Harvard Digital Collections.
Introduction to Data Visualization With Tableau
Wednesday, February 16, 2022, at 12:00pm
In this hour-long, hands-on workshop you'll use a sample dataset to create several different types of visualization using Tableau. You'll also learn how to combine graphs together to create interactive dashboards.
Salt Prints Initiative at Harvard
Thursday, February 17, 2022 at 12pm
Come learn about the Weissman Preservation Center's (WPC) university-wide project to preserve and enhance access to salt prints at Harvard. Elena Bulat and Katie Mika will discuss the large-scale survey of photographs undertaken; the data and metadata generated by the survey; the analysis of chemical coatings on the salted paper prints; and the curation process and potential reuses for the publicly shared data.
Jeremy Ney on data visualizations of U.S. inequality
Friday, February 18, 2022, at 12pm
At this session of Harvard Kennedy School's Library & Knowledge Services Data + Donuts event series, Jeremy Ney will speak about his work and the steps changemakers can take to combat inequality in their communities. Jeremy's research uses maps and data visualizations to highlight U.S. inequality topics that tend to get overshadowed - inequality in life expectancy, food deserts, internet access, and more.