What are file naming conventions?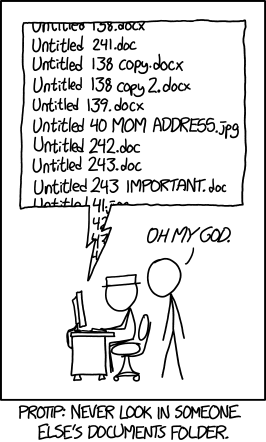 To maximize access to your records, we recommend establishing a naming convention for your files.
A file naming convention is a framework for naming your files in a way that describes what they contain and how they relate to other files.
File naming conventions help you stay organized and quickly identify your files. In a shared or collaborative group file-sharing setting, it will help others more easily navigate your work.
It is essential to establish a convention before you begin collecting files or data in order to prevent a backlog of unorganized content that will lead to misplaced or lost data!
Comic: xkcd. "Documents.". Shared under CC-BY-NC License