HMS Electronic Lab Notebook Service Update
HMS Research Computing has launched a Pilot with eLabJournal and eLabInventory.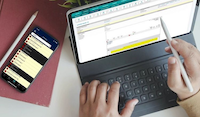 eLab provides tools that enable good data management practices.
RC welcomes any questions or feedback concerning the eLab Platform, and encourages you to reach out if you are interested in participating. 
---
Research Computing (RC) is happy to announce that, after an extensive ELN evaluation process (see October's newsletter), the eLab Pilot went live on January 22, 2021. The initial Pilot participants being the Corey Lab, led by David Corey, PhD, and the MicRoN core, led by Paula Montero Llopis, PhD. Both groups are making good use of the platform, while the project team solidifies operational processes, and develops onboarding processes for future groups.
Now that we have reached our initial goal of successfully operating a problem-free eLab service for our early adopters, the ELN Steering Committee has agreed that we should onboard some additional groups. We have recently started the onboarding process for the Center for Macromolecular Interaction, led by Kelly Arnett, and have short-term plans for onboarding two additional groups.
The eLab Platform offers both eLabJournal and eLabInventory, which together offer users an intuitive Electronic Lab Notebook (ELN) solution, and inventory tracking of lab or core samples, reagents, and equipment. HMS on-quad Labs and Cores approved by the HMS ELN Steering Committee are eligible to participate in the Pilot free of charge.
RC welcomes any questions or feedback concerning the eLab Platform, and we would particularly be interested to hear of any specific ELN requirements, or interest, that you may have. Please visit the Research Computing website or contact us directly. 
More ELN News
For groups that are interested in using RSpace as an ELN, Harvard University IT (HUIT) is in the process of facilitating access to a Harvard-wide Enterprise edition of the RSpace product. Further details will be available at a later date.