Promoting Data Management at the Nikon Imaging Center and Cell Biology Microscopy Facility
The RDM News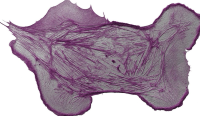 Blog occasionally spotlights data management advocates in our community. These are members working with data and supporting data management practices in various ways. This month we highlight Jennifer Waters in the department of Cell Biology at Harvard Medical School. Jennifer is Director of the Nikon Imaging Center and Cell Biology Microscopy Facility, and shared her group's work supporting data management related to imaging data -- including a real-life data horror story!
---
Q: What is your role at Harvard University?
A: I'm the Director of two light microscopy core facilities at Harvard Medical School, the Nikon Imaging Center and the Cell Biology Microscopy Facility. 
Q: What is your research focus and what type(s) of research data do you work with?
A: Researchers from across the HMS Quad routinely use our instruments to collect multi-dimensional images from a wide range of biological and biomedical applications. My group, and the research scientists who use the cores, work primarily with image files: either standard image file types (e.g., *.tif) or proprietary image file types designed by the microscope manufacturer.
Q: How does data management impact you and your group?
A: We advise and train research scientists on experimental design and proper use of light microscopes. Each of the individual files collected with an imaging system is large, and the data set for a single experiment can easily include thousands of files. Each file includes metadata (which may or may not be a separate file) that records the parameters used to acquire the data. For quantitative measurements, image files will also have associated image analysis files. Keeping track of these various imaging data can be challenging and time-consuming for research scientists. It is also often the case that researchers need to convert from one file type to another in the course of a single experiment, increasing the risk of compromising data.
Q: Can you share a data management horror or success story?
A: We impress upon our users the importance of keeping the original, unaltered image file to ensure the metadata is preserved. I recall a PI asking my advice in interpreting what she found to be very confusing imaging data. I looked at the metadata for the images and found that her trainee had mistakenly used different acquisition parameters for images he intended to compare - a mistake could have led to misinterpretation of the results. The mistake would have been undetectable had the metadata not been available.
Q: What are some of your favorite data management tools?
A: OMERO is an open-source imaging data management platform. It is not perfect, but it is one of the best options out there for keeping track of images and associated analysis data - and it's available to HMS researchers through Research Computing! For more information about OMERO, see HMS IT Research Application Platforms.
Contributed by Jennifer Waters, PhD, Lecturer on Cell Biology (HMS), Director of the Nikon Imaging Center (NIC), Director of the Cell Biology Microscopy Facility (CBMF) 
Image Credit: Cell Biology Microscopy Facility 
If you are interested in being featured in a future blog post, please respond to our easy-to-fill-out form.