Protocols.io Premium Now Available!
Protocols.io Premium Now Available for HMS, HSDM, and HSPH
The Premium version of protocols.io—a collaborative platform and preprint server for methods and protocols—is now available free to Harvard Medical School, Harvard School of Dental Medicine and Harvard T.H. Chan School of Public Health users! Funded and supported by the Countway Library, protocols.io allows you to create step-by-step detailed, interactive and dynamic protocols that can be run on mobile or web. This platform is useful for researchers in any discipline that uses a step-by-step methodology, including life sciences, engineering, chemistry, data science, and computational social sciences.
See a presentation about protocols.io given by CEO Lenny Teytelman during Countway Library's Open Access Week in October 2019.
Creating Protocols: Protocols can be made from scratch or uploaded and converted from an existing Word or PDF document quickly and easily. In addition, if you have a particularly complex protocol, the staff at protocols.io will import a protocol for you.
DOIs & Publishing: Using the Premium version of protocols.io, you can share your protocols privately with labmates and collaborators, or publish them publicly with a Digital Object Identifier (DOI) via protocols.io's open access repository. Getting a DOI for your protocol will make it easier for others to find and cite your protocols and give you credit for your work. And when you link from articles you publish to one of your own published protocols, you make your research articles more reproducible.
Keep reading to find out how to get started!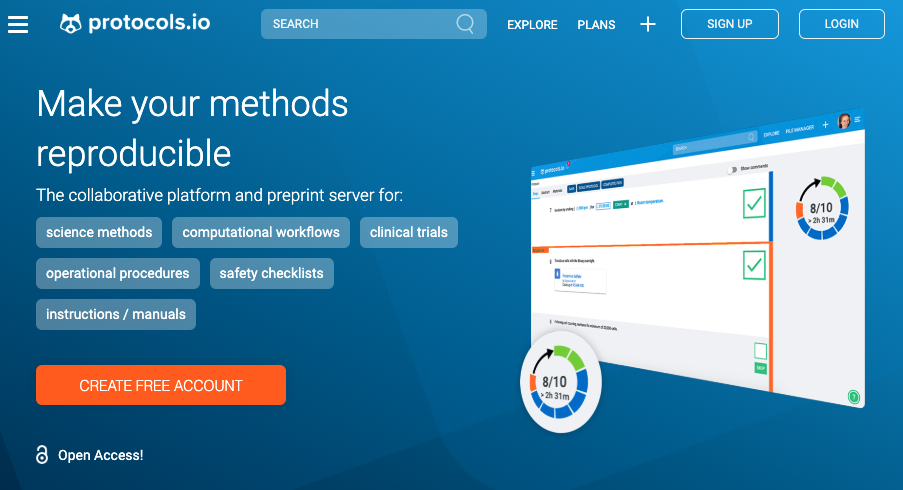 Getting Started
To claim your free Premium account on protocols.io, please follow these instructions. You will automatically receive a Premium account if you sign up using your hms.harvard.edu / hsdm.harvard.edu / hsph.harvard.edu email address. You may sign up with another email address, after which you will need to go through the verification steps described at the link above to access your Premium account. If you already have a protocols.io account using any email address, you can verify your appropriate Harvard affiliation with these same instructions to activate your premium account without needing to make any account changes.
For Research
Research labs or projects may be interested in taking advantage of the ability to create a group where they can organize all of their methods in one place to share. This helps makes sure that important methods and protocols aren't lost when people leave the lab. For an example of how your group can use protocols.io, check out the public protocols from the Sullivan microbiology lab at Ohio State University. Also see a developing example from the HMS Laboratory of Systems Pharmacology, presented by Connor A. Jacobson during Countway Library's Open Access Week in October 2019.
For Instructors
Instructors of lab courses and computational classes may find protocols.io useful for sharing class materials and protocols with students. Class content can be open for everyone or the instructor can choose to make it only accessible for the students. For an example of how you can use protocols.io for your course, check out the public course methods from a genomics course at the University of Arizona.